Persian Corner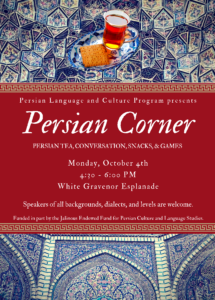 The Persian Studies Program presents Persian Corner: Persian tea, conversation, snacks, & games.
Speakers of all backgrounds, dialects, and levels are welcome.
Funded in part by the Shahrzad and Farhad Jalinous Endowed Fund for Persian Culture and Language Studies.
The Persian Program hosts Persian Corner (Happy hour, Persian style!), a little piece of Iran, where we chat in Farsi, read poetry, tell jokes, share news, watch videos, listen to music, and play traditional Persian games like takht-e nard (backgammon) and hokm (card game). You can come for a few minutes or stay the whole time! Come participate in conversational Persian spoken by speakers of all backgrounds. We enjoy tasting Persian tea and traditional sweets accompanied by music, dance, and handicrafts. This event is open to Georgetown students, faculty, and staff.